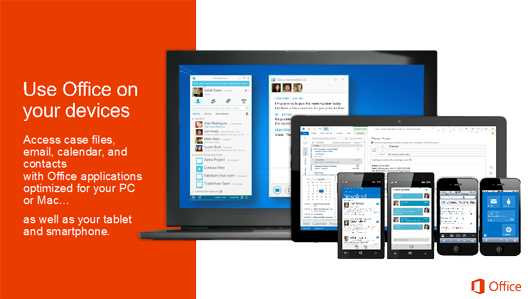 The new Office is a cloud subscription that provides virtually anywhere access to your familiar Office applications and business-class email, calendar, and video conferencing across your devices – from PCs to smartphones to tablets.
Here's what's included:
Hosted Exchange: Email is accessible anywhere and always up to date. Your email, calendar, contacts and notes will automatically sync from your desk to your mobile devices. Protect your company from Spam and malware with Microsoft's Forefront security.
Office Anywhere: The complete Office Suite is always kept up to date and available at your desk and in the Cloud. Stream a full-featured version of Office on any internet connected PC with Office on Demand. Documents are saved to the cloud so you can share and collaborate by sending a link.
Support: 24×7 Phone Support, 99.9% financially backed service level guarantee
Communication: You can quickly schedule a meeting, send an email, start an IM or voice and video chat- or host a multiparty HD video conference in a few clicks.
Here's why you should consider moving to the Microsoft 365 Cloud:
Does your company face any of the following scenarios?
Using an older server and worried about its security and maintenance costs?
Growing in size and looking for technology to help meet your businesses mobility and collaboration needs?
Having trouble managing a number of disconnected web-based email or software?
Using outdated versions of Office, such as Office 2003, and experiencing and compatibility issues or concerns with end of support?
If you answered yes to any of the above questions then the new Office can bring you great business value and enhanced productivity!
Contact us to learn more about how to experience the new Office today.